Aileen Creighton Award 2009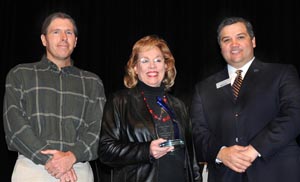 Introduction given for Ms. Hall by Brian Hart
Exie Hall
Del Mar College named Mathematics Professor Exie Hall as the eighth recipient of the Dr. Aileen Creighton Award for Teaching Excellence. Hall has taught math courses for the Department of Mathematics and Physics for nearly 35 years.
The College established the Creighton Award in August 2002 with faculty and administrators agreeing that the vision, ability to teach on the cutting-edge and other educational contributions during Dr. Aileen Creighton's official 42-year career at DMC merited creating an annual award in her name. Faculty members who emulate her legacy are recognized as a "master teacher." The Dean Emeritus of the Division of Arts and Sciences, who died at age 97 in December 2008, received the first award.
Hall's ties to the College extend beyond teaching, back to the days when she was a young mother of two in search of a career.
While accepting the Creighton Award, Hall recalled how her husband, the late Jim Bickham, steered her toward math and physics although she "had no background for it." Hall soon discovered she had a passion for the discipline and graduated summa cum laude from Del Mar College in 1970. She was also named "Outstanding Student in Math."
Hall earned her bachelor's degree in math in 1971 and masters degree two years later from Texas A&I University in Kingsville. Prior to her career at Del Mar College, Hall taught freshman math courses at Texas A&I as a graduate student as well as high school math at Carroll High School for two years.
Hall's long and influential career as a teacher has shaped many lives for the better. Having a former student-turned-colleague nominate her for the prized faculty recognition award was only fitting.
In her nomination letter, Barbara Finnegan, DMC associate professor of mathematics, recalled her own days as a student in Hall's classes and noted that her instructor was patient and worked closely with students to ensure their success.
Fellow math faculty member Eric Moller concurred, adding, "As a past Calculus student of hers, she was very thorough, very organized and meticulous in her lectures."
Current students also share a deep affinity for Hall's teaching style. Ashley Vela, who took Hall's College Algebra class, wrote that the professor's due diligence has helped her become a stronger student in the subject. "She (Hall) has made learning math, which I consider one of the toughest subjects in school, a pleasant learning experience," Vela wrote in her letter of support.
DMC assistant math professor Moller and several other colleagues who wrote letters of support for Hall noted that the professor uses textbooks that she has written for her courses.
Department of Mathematics and Physics Chair Antonio David added in his letter that Hall localizes examples to promote better understanding. David observed, "A unique aspect of her textbooks is that she uses examples of local organizations, people, buildings and incidents in problems to make them more meaningful and interesting."
Among her credits, Hall was instrumental in creating the College's Math Learning Center, a tutoring lab that began operation in 1996. She also led the charge to establish the DMC Math Testing Center four years later. The testing center administers and monitors exams while giving instructors more time to review course content and students a two- to three-day window to take exams.
Currently, Hall hopes to assist with expanding the Math Testing Center to accommodate more students in the near future.
A humble professional by nature, Hall told members of the DMC faculty, administration and staff yesterday, "I'm honored to receive an award for something I love doing. My students have convinced me that I need to be in the classroom."
She added, "Above all, I want students to learn that they CAN learn anything. I keep my standards high so that my students can compete with students from the big universities."