Occupational Therapy Assistant
Occupational Therapy Assistant
Associate in Applied Science Degree
Available at: West Campus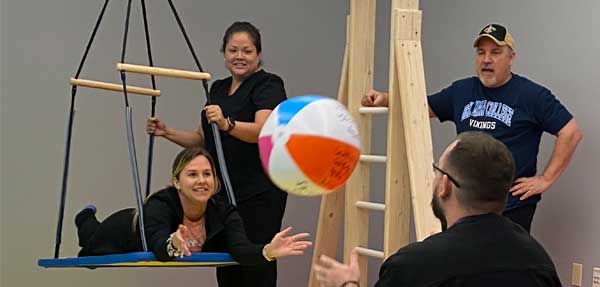 Program Overview
The Occupational Therapy Assistant program curriculum is designed to prepare an individual as an Occupational Therapy Assistant, a health care professional who works directly under the supervision of a Licensed Occupational Therapist. The Occupational Therapy Assistant provides the rehabilitative service of those individuals whose abilities to cope with tasks of living are threatened or impaired by physical injury or illness, developmental deficits, the aging process, poverty and cultural differences, or psychological and social disabilities.
The Occupational Therapy Assistant collaborates occupational therapy services with appropriate supervision to prevent deficits and to maintain or improve function in activities of daily living, work, play, leisure, and in the underlying components such as sensorimotor, cognitive, and psychosocial. The Occupational Therapy Assistant may implement treatment programs developed by the Licensed Occupational Therapist which may include therapeutic exercises; therapeutic activities; activities of daily living training; living skills training; splint design and construction; measuring joint motion and muscle function to upper extremities; cognitive and perceptual motor skills training and patient and family education.
Curriculum
Accreditation
The Del Mar College Occupational Therapy Assistant program is accredited by the Accreditation Council for Occupational Therapy Education (ACOTE) of the American Occupational Therapy Association (AOTA), located at 4720 Montgomery Lane, Suite 200, Bethesda, MD 20814-3449. AOTA's phone number is (301) 652-AOTA and its web address is www.acoteonline.org. Satisfactory completion of the program entitles the student to an Associate in Applied Science Degree.
* On December 1, 2017 the Occupational Therapy Assistant Program received a Certificate of Accreditation from ACOTE for 5 years, from 2016/2017 until the 2021/2022 academic year.
Graduates of the program will be eligible to sit for the national certification examination for the occupational therapy assistant, administered by the national board for certification in occupational therapy (NBCOT). After successful completion of this exam, the graduate will be a certified occupational therapy assistant (COTA). In addition, most states require licensure to practice; however, state licenses are usually based on the results of the NBCOT certification examination. A felony conviction may affect a graduate's ability to sit for the NBCOT certification examination or attain state licensure.
Program Eligibility
If you have been convicted of a misdemeanor (excluding minor traffic violations) or a, (any), felony, it is your responsibility to contact the National Board for Certification in Occupational Therapy, Inc. at (301) 990-7979, www.nbcot.org AND the Executive Council for Physical Therapy and Occupational Therapy, Examiners at (512) 305-6900, www.epcote.state.tx.us to determine your certification and licensure eligibility. It is your responsibility to have letters of verification sent directly to the Program Director from NBCOT and EPCOTE to notify and verify your eligibility in order for your application to be considered. The OTA Program must receive these letters by the application deadline.
All OTA students must complete Level II Fieldwork within 18 months following completion of academic preparation.
OTA Student Outcomes
Students graduating in May of the following years:
| Graduation Year | Students Admitted to OTA Program | Students Graduated with AAS in OTA | Graduation Rate | NBCOT Pass Rate |
| --- | --- | --- | --- | --- |
| 2016 | 20 | 19 | 95% | 100% |
| 2017 | 20 | 20 | 100% | 83% |
| 2018 | 20 | 20 | 100% | 89% |
| Total | 60 | 59 | 98% | 91% |
| Total COTA Licensure | blank | blank | blank | 91% |
The Graduation Rate for Del Mar Students was 98% for the OTA Program.
The pass rates and percentages are based on the statistics from the National Board for Certification in Occupational Therapy (NBCOT) (https://secure.nbcot.org/data/schoolstats.aspx).
Page last updated June 14, 2019.