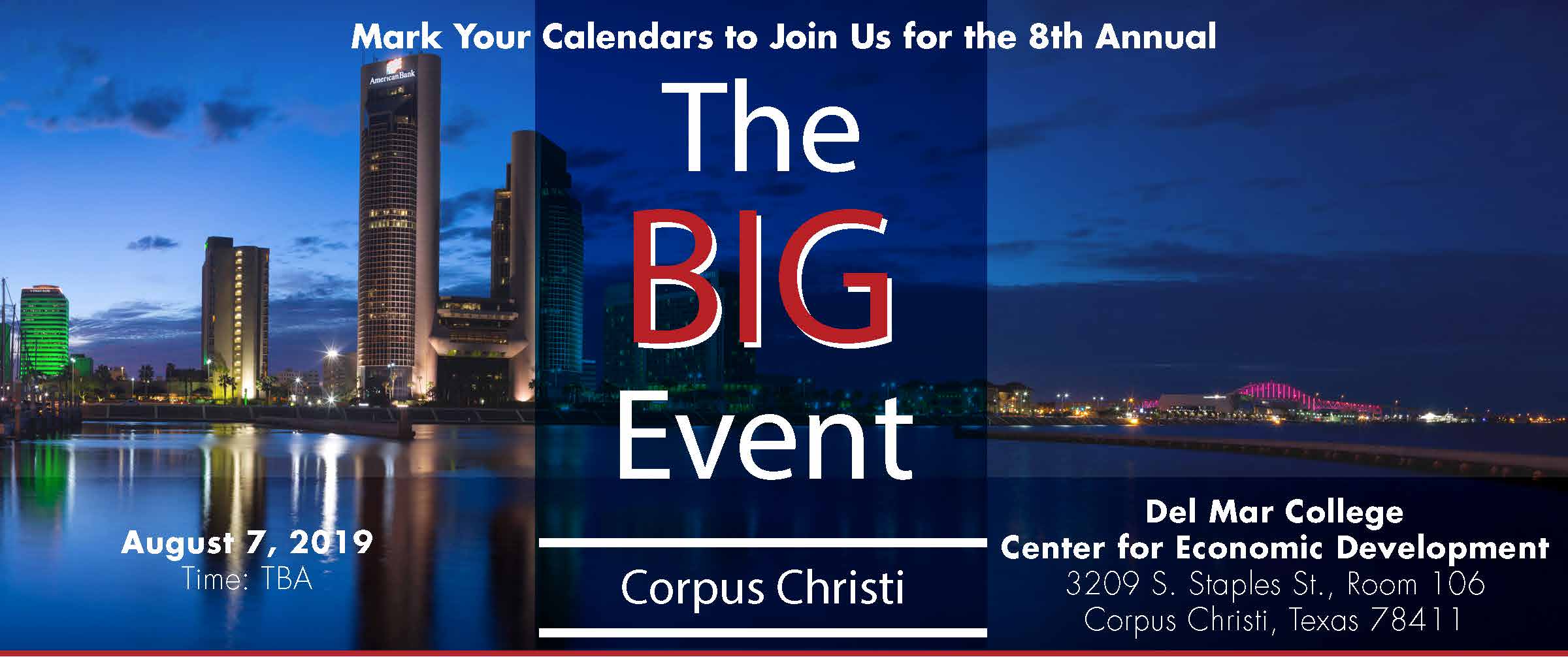 About the event
Thank you for your interest in the Del Mar College Small Business Development Center's The B.I.G. Event (Booming industry, International trade, Government contracting), scheduled to take place at the Del Mar College Center for Economic Development on Wednesday, August 7, 2019. Registration begins at 9:30am - and the event will run from 10:00am - 2:00pm.
Even though things may have slowed down in the oilfield, there are still abundant opportunities in the Coastal Bend. That is what this event is all about! Carve some time out of your busy schedule to work "on" your business instead of "in" your business for a few hours and find new customers!
Big businesses and government entities consistently seek to improve their bottom line. Come explore the many possibilities and opportunities to support a truly global representation of new industries, and meet key personnel face to face. The BIG event will include great networking opportunities, presentations on diverse topics including leadership skills, and networking and growth opportunities to sell your business products or services to the vendors who need you as much as you need them. Lunch is also included with your registration.
Keynote speaker
We are pleased to announce that the event will feature keynote speaker, Jody Holland.
Jody Holland has trained over 200,000 leaders since 1999. He has worked in multiple countries to develop leadership, interpersonal skills, sales success, service excellence, and right attitudes.  He has been the keynote speaker more than 200 times at conferences, written 19 books, and read hundreds of books on success, leadership, sales, service, reading people, and more. Jody has a unique style of bringing both education and entertainment to his lessons, and we are pleased to partner with him to present valuable skills at our BIG Event!
Agenda
9:30am   - Registration / Networking with Vendors
10:00am - Welcome
10:15am - SBA's Office of Government Contracting: A Procurement Center Representative's Perspective
                Sheena L. Little, Procurement Center Representative U. S. Small Business Administration
11:00am - International Trade: The Mechanics of Exporting, and Importing
                Shawn Levsen, International Area Sales Manager, UPS
11:30pm - Buffet Lunch by Beauty & The Bistro
12:00pm - Keynote Address: Leadership: How to Accelerate Success
                Jody Holland, Educator, Entertainer, Motivator
1:00pm  -  US 181 Harbor Bridge Project Update
                Lorette Williams, Public Information Coordinator Flatiron/Dragados, LLC
                Gulf Coast Growth Ventures Update
                Contractor Resource Center - Program and Staff Introductions
1:45pm  -  Networking with Vendors
2:00pm  -  Program Concludes - Matchmaking Sessions Begin
New to the Big Event this year, there will be a matchmaking event conducted immediately after. Procurement specialists from organizations such as SpawGlass, TAMUCC, TEAL, and Flatiron Dragados will be available to meet one-on-one with local businesses to discuss procurement opportunities with their companies in timed sessions. Participants will be chosen to meet with these specialists on a first come, first serve basis. Registration for participation will be taken at the BIG Event.
Over 200 people joined us in 2018! We look forward to moving the entire Coastal Bend forward with this 8th annual event, taking advantage of tremendous growth opportunities for local small businesses. See you on August 7th!
Del Mar College
Center for Economic Development
3209 S. Staples St., Room 106
Corpus Christi, TX 78411
Vendor opportunities are also available. Please email mbenavides11@delmar.edu for further details.
---